Even in the heart of metropolitan Gainesville, pockets of greenery thrive. While most people may not consider forests and cities to be compatible, they are synergistic partners that come together in the urban forest.
The Gainesville Urban Forest Management Plan was created to maintain and regulate the city's urban forests, which consist of trees, shrubs and other greenery on public and private property.
A priority for the plan is to increase the social, environmental and economic benefits of urban forests while reducing costs. Additional guiding principles include government efficiency, economic growth, maintaining environmental integrity and supporting neighborhoods.
This plan has been in the works for over four years. Before the plan could be drafted, data needed to be collected.
Gainesville's Urban Forest Ecological Analysis of 2016 sampled urban forests in order to quantify and evaluate their characteristics. The analysis was spearheaded by UF Extension Coordinator and professor Dr. Michael Andreu with other UF contributors, providing baseline data for the Urban Forest Management Plan.
Two committees were formed to oversee plan development: the Public Committee on Urban Forest Sustainability and the Internal Technical Advisory Committee. Both committees consisted of individuals who represent the interests of the community.
The plan was presented to the Gainesville City Commission in January and approved without contest. Andreu told the Florida Political Review that the lack of dispute can be attributed to "transparency and accountability."
The dozens of citizens, developers, city commissioners, business owners, environmentalists and city department representatives that sat on the committees helped create a mutually agreeable plan.
When it comes to environmental preservation, there is always an inherent risk of conflict between developers and conservationists. Bringing together everyone in the community was no easy process, but Andreu said that communication was the key to having a plan that will actually work.
Building off such communication is the articulation of the plan's projected benefits. Environmental benefits such as removal of pollutants from the air and water and reduction in storm-water flows are anticipated.
In addition to environmental benefits, economic and social advantages are also expected.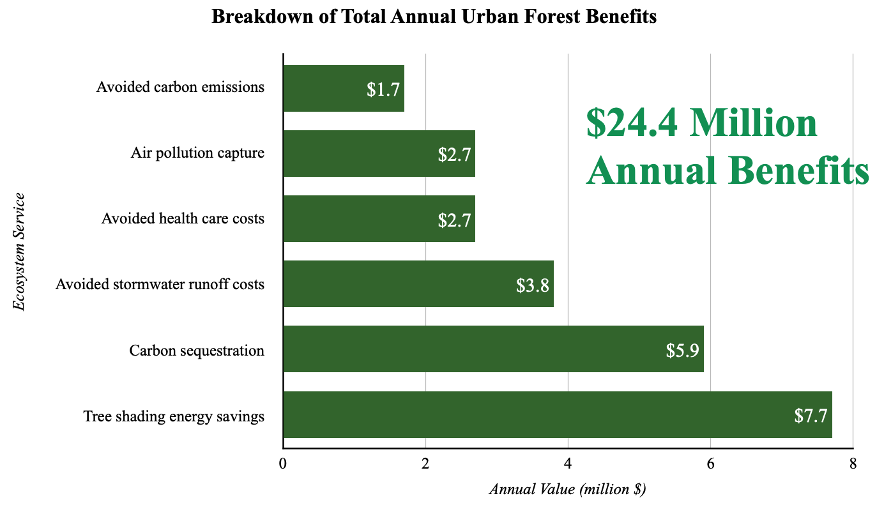 The largest economic value of urban forests is $7.7 million in energy savings from tree shading. When trees are able to grow and occupy space, they shade homes from the sun, thus saving money that would otherwise be spent on air conditioning.
To some, the $2.7 million urban forests save in health care costs may come as a surprise. With more greenery, pollutants that cause respiratory illness are stripped from the air. This promotes the health and well-being of the public and prevents hospital visits due to such illness.
While the science is still evolving on these topics, individual studies show that urban forests can reduce crime, help with psychological issues, and help small businesses with customer satisfaction.
Gainesville has done a relatively good job of maintaining its urban forests. Gainesville's canopy cover, the total area of land under and around trees, is 47%. Comparatively, Tampa's canopy cover is 32%, Orlando's is 22%, and Miami's is 21%.
The problem, Andreu explained, is that there was a lack of documentation on how to continue sustaining urban forests. This is where the Urban Forest Management Plan factors in.
It creates a framework to "maintain the essence of what makes Gainesville, Gainesville," said Andreu.
The 20-year plan is divided into quarterly 5-year implementation plans. Each plan has its own objectives, which get closer to the plan's ultimate goals as time goes on. The longevity of the plan was a strategic choice in order to reach an optimum state that can be sustained once it is achieved.
Crucial to the plan's success is monitoring. To ensure the plan's effectiveness, an adaptive management cycle will be used to monitor actions, evaluate outcomes, and make adjustments if needed.
Andreu wants people to understand the connection between themselves and healthy forests. The phenomenon he dubs the "tree and me" connection has the power to show people that trees are much more vital to their lives than they may believe.
This connection can be made through the extra money in people's pockets due to saved air conditioning costs, better air quality for individuals with asthma, and a more aesthetic and livelier city. The goal is to get people to say, "That's me, that's my paycheck."
Gainesville has been recognized as a Tree City of the World for the past two years, a distinction held by only 120 cities around the world. Recent actions, such as the Urban Forest Management Plan, earned the city this distinction and will continue to preserve Gainesville's forests for decades to come.
Featured image: Lake Alice in Gainesville, FL. Unmodified photo by Ebyabe used under a Creative Commons license. (http://bit.ly/3kKlezE)
Check out other recent articles from the Florida Political Review here.