For what is now the second presidential election to illuminate a disturbing trend, state-level political polling in 2020 exhibited inaccuracies — even despite polling correctly predicting a Joe Biden victory.
In 2016 after pollsters overwhelmingly predicted a Hillary Clinton victory by a relatively wide margin, they were left shaken by the reveal of a pervasive pro-Clinton bias present in the pre-election surveys due to a few significant errors.
Supposedly correcting the errors from 2016, pollsters headed into the 2018 midterms with a fresh outlook — an outlook seemingly vindicated as the midterm polls were closer to election night results than any other election in the past decade. Revitalizing some faith in their profession, pollsters looked at 2020 with a fresh set of optimism despite the extensive distrust of the American people.
However, as we have now witnessed, 2020 election polling had significant inaccuracies at the state level just as it had in 2016. State-level polls predicted Democratic pickups in both the Senate and House of Representatives. Instead, Democrats will have a shrunken majority in the House of Representatives, Republicans will most likely retain Senate control, and the Biden victory will be much closer than polling had predicted.
As seen in the graphic below, while some state polling was fairly accurate (in North Carolina and Pennsylvania in particular), a number of other states were significantly off. Florida, Ohio, Texas and Wisconsin all notably undercalculated Trump's support.
Perhaps most significantly, RealClear Politics' polling average predicted that Florida would go to Biden even though it went to Trump by a margin of over three points — an early victory that at the time made Trump's reelection more likely.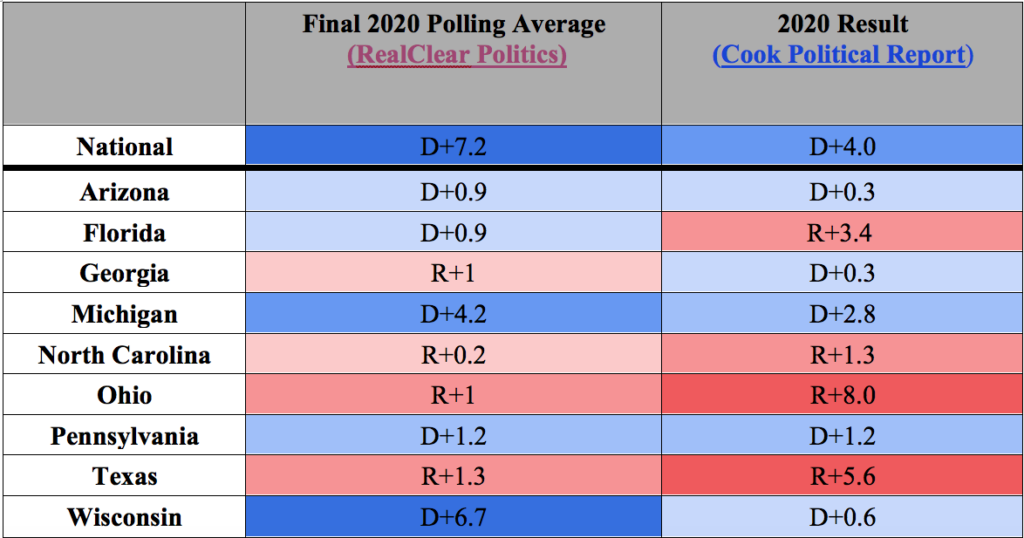 Why was polling once again so erroneous? Although we won't know the complete story for a while as recounts are being done and final results are yet to be certified, there are a number of factors that most likely affected the polling inaccuracies prevalent in this year's elections.
First, polling is frequently conducted over phone calls, meaning the sample is limited to whoever answers their phones and then agrees to participate. This method, by which polling is frequently conducted, lends itself to favor Biden over Trump for a number of reasons.
Biden supporters were more available to take part in such polls as they were more likely to be isolated in their houses leading up to the election due to Democrats tending to take more COVID-19 precautions than Republicans. In addition, college graduates as a whole who are a demographic that is more frequently Democratic-leaning are more likely to answer polling calls as they are more responsive to polling as a practice.
Both of these factors, if not properly counterbalanced, could result in a skewing of support for Biden in the state-level polls, the types of which we saw this year.
Other factors contributing to the inaccuracies found in this year's polls include a misrepresentation of voters without a college education, a demographic that disproportionately backs Trump over Biden. In addition, polls misrepresented a Biden lead among seniors by a measure of over 10 points, according to the New York Times.
These errors contribute to why certain states, such as Florida, were so inaccurately predicted.
Another significant factor in the errors this year can be attributed to the nature of Trump's base. There are disputes about the ways in which Trump voters skew polls, including polls failing to reach the Trump base, Trump voters being uncomfortable sharing their support when polled (possibly a product of social desirability bias), and Trump making gains in communities that are under-polled as a whole.
So, where do we go from here? Again, it is too early to fully assess the errors that occurred in this year's polling as data continues to come in. However, the errors prominent in 2016, albeit different than those so far identified in 2020, were largely absent in both the 2018 midterms and the primary elections. This could mean that it is possible that 2020 itself, a year with unprecedented challenges, could be an anomaly for the industry.
It is also possible that Trump himself could be the reason for the inaccuracies as he evokes reactions largely abnormal for American politics. Trump ran in both recent elections with the most noticeable errors: 2016 and 2020.
Either way, for the American populace to ever rely on polling data in the future, the pervasive errors encountered in 2016 and 2020 must be accurately identified and addressed to try to rebuild trust in the practice of polling.
Featured image: 2020 presidential election results by county. Unmodified public domain photo by Magog the Ogre.
Check out other recent articles from the Florida Political Review here.