Three months into 2021, 613 Florida manatees are dead – more than triple the yearly mortality averaged over the past five years.
Federal regulations improved manatees' status from "endangered" to "threatened" back in 2017, but was this move premature?
Though the Fish and Wildlife Conservation Commission has not examined many of the dead mammals, the manatees currently seem to be starving.
These aquatic herbivores referred to as "sea cows" graze upon seagrasses and other underwater flora for up to eight hours daily. Through increased nutrient loads of nitrogen and phosphorous, algal blooms in the Indian River Lagoon block sunlight and cause such manatee-supporting vegetation to die.
Due to COVID-19 procedures, labs that examine the dead manatees have only been able to examine 30% of remains, and many manatees are left to decay. 422 of the 613 manatees, roughly 69%, have yet to be necropsied, so the true causes of death remain unknown.
The Indian River Lagoon National Estuary is hesitant to declare a single factor, like hunger due to loss of seagrass, as cause for manatee mortality to skyrocket in Florida.
Dr. Charles Jacoby, supervising environmental scientist for the St. Johns River Water Management District, told the Florida Political Review that algal blooms in the Indian River Lagoon have been the main cause of the seagrass loss as the algae block out the light required for seagrass growth. Increased nutrient loads of nitrogen and phosphorous fuel such algal blooms.
"The premise is that the increase in the intensity of land use and the number of people living in and around the lagoon have increased the load of nutrients," Jacoby said. "The process that is underway, called the total maximum daily load process, is targeting reductions in those loads, so fertilizer on peoples' lawns, septic systems, blowing grass clippings into the lagoon, a whole range of activities that people do put nutrients into the lagoon, and we need to lower that."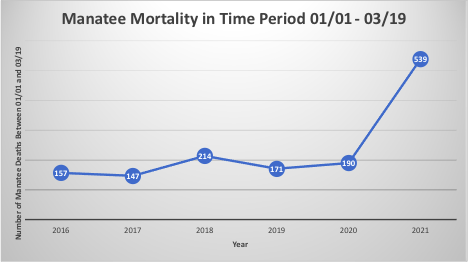 Seagrasses expanded their acreage up until 2009; however, in 2011 an unusual bloom that lasted longer than recorded in the previous 25 years began the shading processes and consequently impacted seagrass loss.
"Environmental conditions in portions of the Indian River Lagoon remain a concern," the Florida Fish and Wildlife Conservation Commission wrote in a statement. "Preliminary information indicates that a reduction in food availability is a contributing factor."
Restoration of the sea cows' food supply relies on a multi-pronged approach, which Jacoby said must include a reduction in nutrient loads, wetland restoration measures, an alteration of human habits, and a removal of "muck" — a fine sediment of organic matter that releases nutrient loads into the lagoon when bacteria break it down.
The Indian River Lagoon serves as a hub for manatees, according to Patrick Rose, Executive Director of Save the Manatee Club that advocates for the animals. Around 4,000 manatees travel through the lagoon to feed, and nearly 1,000 reside there for winter to benefit from the warm water near the Titusville power plant. Residing in the lagoon for winter, however, has left the marine mammals with little food source.
The uptick in Florida manatee mortality led the U.S. Fish and Wildlife Service to declare the trend as an Unusual Mortality Event – the first UME of 2021 following zero UMEs in 2020.
Under the Marine Mammal Protection Act, a UME is "a stranding that is unexpected; involves a significant die-off of any marine mammal population; and demands immediate response."
Federal officials are assisting in an investigation of this alarming increase in Florida manatee deaths. U.S. Reps. Stephanie Murphy, D-Winter Park, and Charlie Crist, D-St. Petersburg, both asked USFWS officials to intervene in the investigation.
These Florida officials hope this surge in manatee mortality rate begins to slow as spring progresses and waters warm. The manatees will then have the option to swim to other locations to forage successfully.
Even with manatees on the move with warmer temperatures, the population could face the same food shortage next winter, presenting a long-term problem. Revitalizing seagrass beds presents a long-term challenge that requires changes in the lagoon to ensure a food supply for Florida's beloved marine mammals.
As of now, boaters and people on the water should report sightings of sick or dead manatees. They can call 888-404-3922 with reports.
Featured image: Florida manatee swimming. Unmodified photo by Robert Bonde under a Creative Commons license (https://bit.ly/31BlUQA).
Check out other recent articles from the Florida Political Review here.