New unemployment claims in Florida decline as restrictions loosen and businesses reopen during the COVID-19 pandemic.
According to the U.S. Department of Labor, Florida had 26,018 new unemployment claims for the week ending on Dec. 12. This is a decline of 3,124 claims from the previous week's total of 29,142.
Florida's decreasing trend in claims differed from the number of unemployment claims at the national level. New jobless claims successively rose to 892,000 in the week ending on December 12.
The state's recent decrease in jobless claims carries on as restrictions loosen statewide. While other states continue to impose restrictions, Gov. Ron DeSantis has extended an executive order intended to prevent business shutdowns.
Other indicators, however, reveal that Florida still has a long way to go before it recovers. Unemployment rates at the state and local levels are notably higher than they were prior to the pandemic.
Despite the drop in Florida's unemployment rate for the month of October, the rate remains unchanged for the month of November. The Department of Economic Opportunity reported that the unemployment rate stands at 6.4%, revealing that there are 651,000 jobless Floridians.
Various industries in the state underwent negative job growth in November. Leisure and hospitality experienced the heaviest impact with a total loss of 187,500 jobs. Other industries that experienced negative job growth include government, which lost 45,700 jobs, and professional and business services, which lost 53,800 jobs. Recent statistics indicate that the state has experienced a total loss of 418,500 jobs since November 2019.
In Central Florida, Osceola and Orange Counties have the highest unemployment rates, standing at 9.7% and 8.1%. With the leisure and hospitality industry losing the most jobs, this region has been particularly affected. Other counties throughout Florida have seen a slight increase in unemployment rates from October to November.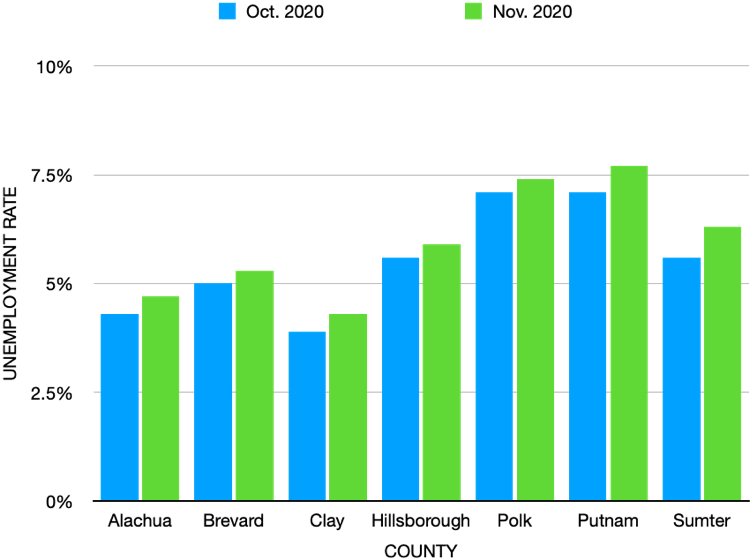 With a second pandemic relief package pending, unemployed individuals and struggling business owners wait for a second round of stimulus payments.
On Dec. 18, President Donald Trump signed a stopgap bill to avoid a government shutdown and give Congress until Sunday at midnight to sort out remaining disagreements on the relief bill. Congressional leaders in the House of Representatives and the Senate met the deadline late on Sunday and agreed on a $900 billion federal relief package.
The relief package, if signed by President Trump, will include direct payments of $600 checks, which is down from the $1,200 checks approved under the $2 trillion CARES Act. The $600 direct payments will go to individuals making less than $75,000 a year or married couples making less than $150,000.
The measure would also include an additional $300 weekly unemployment benefit for jobless individuals, a total of $330 billion in small business aid, and funds to distribute the COVID-19 vaccine. The bill will not include state and local government benefits, a vital item Democrats have been pushing for, nor will it include liability protections for businesses, which is a priority for Republicans.
Featured image: Homeless man on street corner during COVID-19 pandemic. Unmodified image by Anthony Quintano used under a Creative Commons license. (https://bit.ly/3heALY7)
Check out other recent articles from the Florida Political Review here.