Spending $36.05 per person, Florida ranks last among all 50 states for per capita mental health expenditures.
Over 800,000 Floridians live with a serious mental illness, such as severe depression, bipolar disorder, or schizophrenia. Nearly half the population will deal with a less intense form of mental illness at some time in their life.
Florida Sen. Jason Brodeur, R-Seminole County, took notice of this problem. Brodeur, along with Sen. Darryl Rouson, D- Hillsborough County, sponsored Senate Bill 1024 to increase access to mental health care.
As the former chairman of Health and Human Services in the Florida House, Brodeur discovered areas of opportunity in Florida health care. He told the Florida Political Review, "We need to determine how many people are actually getting care," which is different from having coverage.
Compounding the issue, some mental health conditions are risk factors for substance use disorders. Without the proper services, individuals with mental illness may turn to alcohol or drugs to self-medicate. Hospitalization, incarceration and suicide are also associated with untreated mental illness.
The goal of SB 1024 is to provide better access to resources, such as counseling, to deter alternative measures such as substance use. Any costs associated with the bill are expected to be minimal and will be absorbed using already existing resources.
The bill requires the Department of Financial Services track and monitor complaints regarding coverage and access to mental health services. Complaints can include access to providers or facilities, quality of care, denial of services, affordability of services, and equivalency of mental health benefits compared to medical benefits.
These complaints will be compiled into a report and submitted to the Florida Legislature and governor. It will also include recommendations for improvement.
Brodeur told the Florida Political Review that there are two questions: "Do people know how to get access to care? If they do have coverage, do they have adequate coverage?" Keeping track of complaints will help pinpoint the problems in the health care system.
Adam Roberts from the Florida Mental Health Advocacy Coalition expressed this sentiment during a Senate committee meeting on March 24. "We strongly support this bill," he said. "We believe it will clearly identify any possible barriers in the system and then let us address those barriers."
SB 1024 will also require insurers and health maintenance organizations to send written notice to subscribers about federal and state requirements for mental health coverage. This will ensure that people are aware of the mental health services that they are entitled to.
Senators across partisan lines agree that this bill is a step in the right direction. It has passed through two Senate committees unanimously and is awaiting discussion in a third.
At the March 24 Senate committee meeting, Sen. Lori Berman, D-Palm Beach County, recognized Florida's low ranking in mental health spending. "Anything we can do to increase access to mental health care in this state is so important," she said.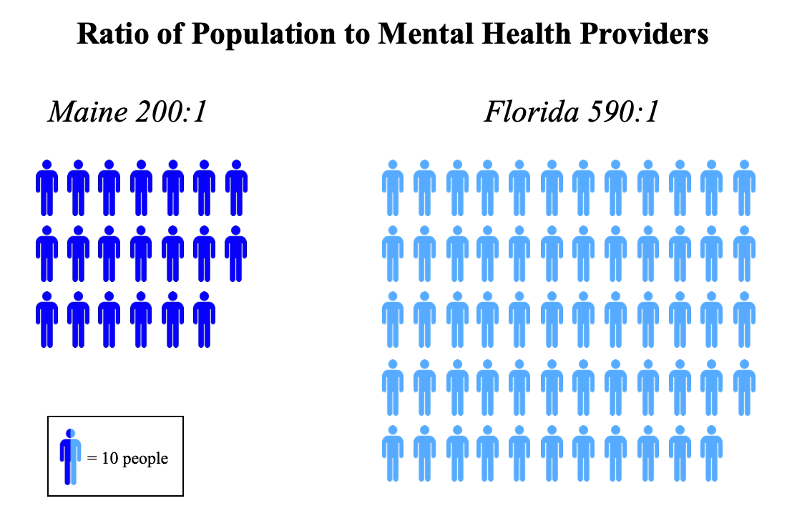 Berman drew attention to Florida's growing mental health crisis amid COVID-19.
For hundreds of thousands of Floridians, isolation and uncertainty negatively impacted their mental health. Fear of contracting COVID-19, loss of employment and school closures took a toll on Floridians of all ages.
If the bill is passed, Brodeur plans to analyze the DFS's report and propose subsequent legislation to implement policy changes. This could include a mandate on insurance companies, a new way to market with government, or increased spending to fill in the gaps.
SB 1024 is the first step toward helping Floridians who are in need.
"It's really important to help the most vulnerable among us who are suffering," Brodeur said. "That's what I believe the function of government is."
Featured image: Mental health disorders. Unmodified photo by Pixabay used under a Creative Commons license. (https://bit.ly/3dy3RAk)
Check out other recent articles from the Florida Political Review here.